The Visayas Regional Training Center (VRTC), now called Marina Yulo-Vargas Regional Program and Training Center (MYV RPTC), is a labor of love and a fitting tribute to the combined efforts of both the government and private sectors.
The negotiation for the donation was initiated in 1963 by the Visayas Regional Committee headed by Milagros Araneta Villasor as Regional Chairperson; Lauaan Tamesis, GSP Officer-in-Charge; Lydia Villorosa, Regional Executive Director; Rizalina Migallos, Cebu GS Council President; and Don Gil Garcia who greatly helped in the camp's initial development.
The 8-hectare campsite located at Bgy. Kalunasan, Capitol Hills, Cebu City was donated by the Cebu Province under the administration of Governor Francisco Remotigue.
On May 16, 1964, the VRTC was inaugurated and the camp marker was unveiled in time for the opening of the Service Camp. The 8th GSP National Encampment was held simultaneously with the blessing of the building by Julio Cardinal Rosales. In attendance were government dignitaries headed by President Diosdado Macapagal and his First Lady; Governor Rene Espina; Sergio Osmeña, Jr.; and the GSP officers led by Camp Committee Chairperson Josefa Marquez. This milestone event transcended politics and opened the doors to many regional and national gatherings and memorable events taking place at MYV RPTC.
Marina Yulo-Vargas Regional Program and Training Center is named after the National President of the Girl Scouts of the Philippines from Iloilo City who served the Movement from 1949-1951, and later on as National Treasurer from 1951-1955.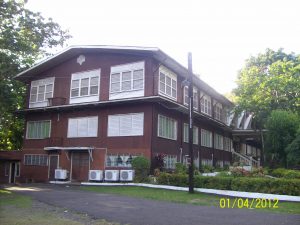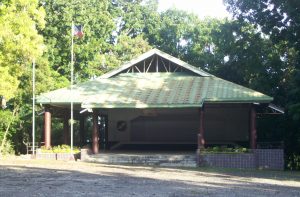 Facilities
The facilities of MYV RPTC include a 3-storey chalet-type building situated in the highest slope overlooking the camp area.
It has dormitory facilities, air-conditioned conference hall and dining hall that can accommodate 100 persons.
Other feature of the training center is the Lawanit House donated by the Philippine Wallboard Corporation through BFD National Director Florencio Tamesis in 1964. This serves as a staff house during outdoor training and camping.
A huge open air amphitheater can accommodate 2,000 campers; an outdoor Meditation Nook that mostly serves as a chapel; and a Spanish-inspired Regional Equipment Service building that serves the supplies for Girl Scouts and Troop Leaders in the region.
Additional construction and improvements done through the efforts of Severina Garcia, Visayas Regional Chairman from 1985 to 1994, are the Multi-Purpose Hall which can accommodate 500 to 700 persons and the Program Center that can accommodate 100 persons. MYV RPTC is open even to non-Girl Scout groups needing a good venue for seminars, conferences and meetings.
The natural terrain of the campsite and the camping facilities promise not just beauty but comfort for its guests, campers and trainees. MYV-RPTC is a solid symbol of the community's wholehearted support and acceptance of Girl Scouting.
Location
For further information about bookings and reservations, you may email, visit or contact:
AIDA C. SAROMINES
Visayas Regional Executive Director
Marina Yulo-Vargas Regional Program and Training Center (MYV RPTC)
Capitol Hills, 6000 Cebu City, PHILIPPINES
Telephone : +63 (32) 253-6550
Fax : +63 (32) 255-5344
Email: [email protected]